DO GET IN TOUCH:
Twitter @pbthomasq semper. Phasellus tincidunt, ante nec lacinia ultrices, quam mi dictum libero, vitae bibendum turpis elit ut lectus. Sed diam ante, lobortis sed, dignissim sit amet, condimentum in, sapien.
Welcome!
I hope you enjoy
these pages. Do feel free to get in touch.
Rev Peter Thomas - North Springfield Baptist Church


The College of Baptist Ministers
supporting ... resourcing ... representing ... benefiting
Ministers of Baptist Churches.
The College of Baptist Ministers is run by ministers for ministers providing our members with patterns of Continuing Ministerial Development, encouragement, advice and support in times of need.
Rev Peter Thomas is Treasurer of The College of Baptist Ministers.
This page contains information about the college but for full details visit our website
www.collegeofbaptistministers.com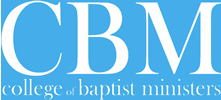 "And let us consider how we may spur one another on toward love and good deeds."
(Hebrews 10:24)
Click below for the Application Form for Membership of CBM
Click below for the Personal CMD Portfolio Template