DO GET IN TOUCH:
Twitter @pbthomasq semper. Phasellus tincidunt, ante nec lacinia ultrices, quam mi dictum libero, vitae bibendum turpis elit ut lectus. Sed diam ante, lobortis sed, dignissim sit amet, condimentum in, sapien.
Welcome!
I hope you enjoy
these pages. Do feel free to get in touch.
Rev Peter Thomas - North Springfield Baptist Church


PREPARED TO GIVE AN ANSWER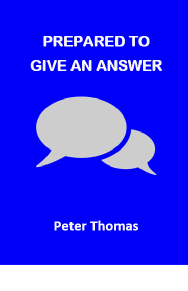 PART 1 – QUESTIONS PEOPLE ASK
What is salvation?
What is the point of life?
How can we have a relationship with God?
How should we respond to the Good News?
Didn't he used to be dead?
What makes you believe that God exists?
Just how did God make the world?
Can we trust the New Testament?
Is Jesus the only way to God?
How can we believe in God in a world so full of suffering?
What happens when we die?
PART 2 – TALKING ABOUT JESUS
Be prepared to give an answer
Why we don't and why we should talk about Jesus
Preaching the gospel necessarily includes using words
Praying about talking about Jesus
Sharing my story
Ambassadors for Christ
Afterword – Taking every opportunity
Paperback 140 pages
ISBN: 9781784563790
Published in the UK by FastPrint Publishing 2016