How can churches and ministers help Christians talk about Jesus more boldly, wisely, confidently and effectively?
A summer of Sabbatical Study in 2015 allowed me to explore this vital question. This site brings together a number of articles on the theme of helping every Christian to take every opportunity to share their faith. Navigate to the pages using the menus at the top of the page or on the right.
Taking Every Opportunity – Conversations about Jesus is a paper which sums up the conclusions of my Sabbatical Studies. Different aspects of the theme are then expanded in the other articles below.
42 Great Outreach Ideas and More is a simple blog bringing together practical approaches to starting and encouraging conversations about Jesus. The first 42 ideas came out of my Sabbatical studies and others are still being added.
Preaching the Gospel Necessarily Includes Words defends that understanding against the mistaken notion that we can somehow witness to Jesus by our actions and that talking about Jesus should only be a last resort.
Prepared to Answer explains a simple programme of sermons, workshops and other activities to help Christians prepare themselves to talk about Jesus.
Prepared to Answer Sermons  links to the sermons in the series which were preached at North Springfield Baptist Church in the autumn of 2015.
About is my brief biography.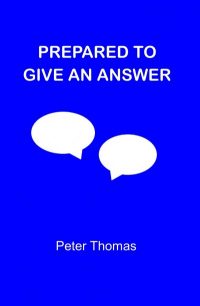 Prepared To Give An Answer is the book I wrote in 2016 bringing together all these materials, the series of sermons, and other insights on talking about Jesus.
Paperback ISBN: 9781784563790
You can order copies of Prepared To Give An Answer from the publishers:
http://www.fast-print.net/bookshop/1942/prepared-to-give-an-answer