PREPARED TO GIVE AN ANSWER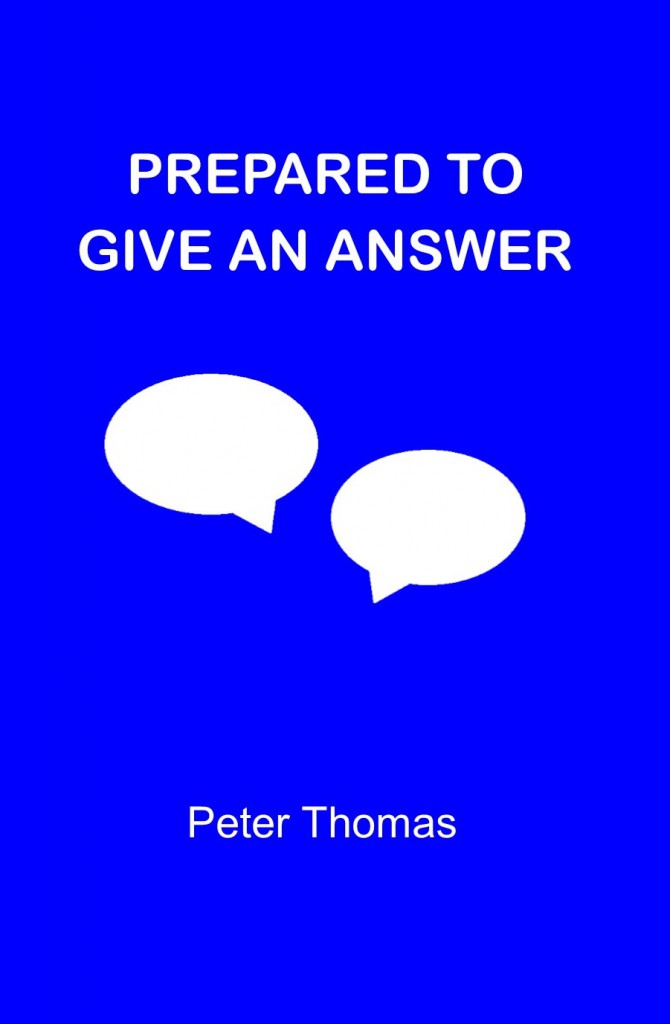 INTRODUCING THE NEW BOOK BY PETER THOMAS 
Christians want to share their faith with their friends but many are scared that they won't know what to say. By preparing ourselves to give an answer, every Christian can be more confident, wise, bold and effective in talking about Jesus.
Order your copy from peter@pbthomas.com
TAKING EVERY OPPORTUNITY: FROM CONTACTS TO INQUIRERS
Churches have activities building relationships with the community but most of those Contacts are not ready for regular Sunday Services or Inquirers' Courses like Alpha or Christianity Explored. So how do we bridge the gap? Very simply - by conversations about Jesus!
"Taking Every Opportunity - Conversations About Jesus"
is the 12 page summary report highlighting the most important points.
is a collection of the best ideas I have found in evangelism and outreach  encouraging conversations about Jesus. .
argues this important point for outreach today and is an extract from the article in a forthcoming edition of the journal
Ministry Today.
.
is the outline of the programme of teaching and activities I am delivering to NSBC to help us all to talk about Jesus more confidently and wisely, boldly and effectively.
Prepared to Answer SERMONS
Here are links to the sermons which appear in full at
www.pbthomas.com/blog
Each of these papers can also be downloaded as a pdf file.
Here are the headlines! 
How can we help Contacts become Inquirers? By having conversations about Jesus and that is something every Christian can do!
The Holy Spirit and Prayer – we begin by praying much more about our evangelism and witness.
Preaching the Gospel Necessarily Includes Words – no catchy slogan will ever give us permission to be silent.
Dialogue Reaches the Hearts Monologue Can't Reach – not talking at people but having genuine conversations.
Prepared to Answer – churches need to help equip Christians to talk about Jesus and here is one approach.
Answering the questions people are asking – here are the issues we need to be ready to talk about.
This is my story – Christians should all be ready to tell other people about the difference Jesus makes in their lives.
Conversations and Cake – we need to make better use of hospitality.
 A Joined-Up Programme of Evangelism – every church should have one.
Ministers as Evangelists – whether we want to be or not.
"Unchain the Lion" – Christians should know Scripture and be giving it away.
Written Testimony – Newsletters, Bookstalls and Christian Christmas Cards.
Adventurous Outreach – insights from churches on Café Church, Messy Church and other new and creative approaches.
Just do it! "Personal conversation is the best way of evangelism. It is natural, it can be done anywhere, it can be done by anyone." (Michael Green) 
Rev Peter Thomas
is Minister of North Springfield Baptist Church in Chelmsford, Essex. He also serves as Task Group Leader for Mission Resourcing for the Eastern Baptist Association and as Treasurer of The College of Baptist Ministers. Discussion welcome by email to peter@pbthomas.com
For sermons and studies
visit
www.pbthomas.com/blog
For more reflections on theology, ministry and outreach
visit
www.pbthomas.com/thoughts